Noise generated by a proposed shale gas drilling rig would cause annoyance and sleep disturbance to residents in the area, an acoustics expert has said.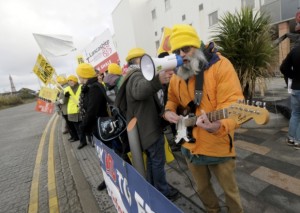 Mike Stigwood gave evidence on behalf of the Preston New Road Action Group at day 15 of a public inquiry into Cuadrilla's applications to drill and test frack for gas at two sites in Roseacre and Little Plumpton.
Mr Stigwood, an environmental health officer, said Cuadrilla's environmental impact assessment carried out by Arup was flawed and had underestimated the effects of noise by the proposed fracking drilling rig at Preston New Road in Little Plumpton.
He said the study had failed to accurately assess the true low level of background noise near the site and failed to take into account non-acoustic factors, and the effects of low frequency noise generated by a drilling site. He said noise levels could be as high as between 51 to 52 decibels when the night-time noise level cited by Cuadrilla was not to exceed 42db. He said his studies had shown the nightime background noise level was in the region of 19db. He said: "This is patently lower than considered by the appellant.
"Even if it was 35 db it would be double the background for a substantial portion of the night."
Cuadrilla's counsel, Nathalie Lieven, cross-examined Mr Stigwood over his evidence.
She questioned the sources of his data on which he based his noise estimates for a fracking rig and whether they came from shale gas or potash extraction. She defended Arup's acoustic evidence saying that their estimates and those of Lancashire County Council's own noise consultants Jacobs came to a similar conclusion. The inquiry continues.
Source: Longridge and Ribble Valley News
Read more: http://www.longridgenews.co.uk/news/environment/lancashire-fracking-inquiry-hears-dispute-over-noise-level-1-7784267#ixzz42Q78t4eG