Acoustics Services is an established independent consultancy specialising in Noise Control and Acoustics. The company was founded in 1994 to provide expert advice in the fields of noise and acoustics to the design, construction, and industrial sectors. We provide cost-effective solutions and practical advice based on hundreds of completed projects.
We have offices in Dublin and Galway City; however, we provide our measurement services throughout Ireland. Our essential services include Room Acoustics, Sound Insulation Testing (TGD-Document-E), Environmental Noise Assessment, Planning & Noise, Construction Noise & Vibration and prediction using CADNA-A.
Our engineers are full members of the Association of Acoustic Consultants of Ireland (AACI), the Institute of Acoustics UK and the Acoustical Society of America (ASA).
We have a team flexible enough to work with all types of customers on a personal level.
Acoustic Services have highly qualified and experienced specialists ready to help you, whatever your acoustic consultancy requirements are. We offer a rigorously quality-controlled service, using cutting-edge acoustic instrumentation and modelling software, that ensure that:
We provide comprehensive and practical noise and vibration assessments for new developments;
We carry out noise surveys or sound insulation testing to the required standards as quickly as possible;
We produce practical and cost-efficient designs to achieve the required sound insulation and internal acoustic quality;
We offer sound insulation testing and assessment services for new buildings to demonstrate compliance with the Irish Building Regulations;
We provide experienced consultants to develop and present the best case as expert witnesses at planning and court hearings.
We always remember the importance of the client's timescale. We push ourselves to meet the necessary deadlines and answer those last-minute queries. That is part of the reason why so many clients have commissioned us for repeat projects over the last 18 years.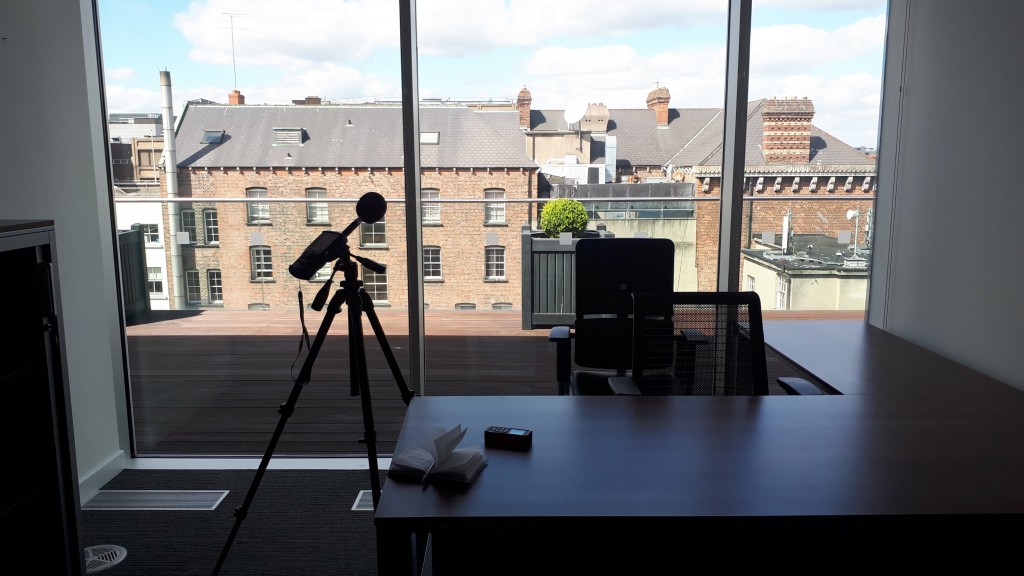 Office Acoustics
Diarmuid is an expert in office acoustics. He provided an excellent service to Storm Technology by evaluating our open plan office design and private office sound insulation design requirements (privacy/speech intelligibility/ambient noise). This included a review of sound insulation between spaces and reverberation design goals. He also proposed well-researched solutions to help us achieve a more comfortable office environment for our staff. I would recommend Diarmuid for any office acoustics work and related matters pertaining to private offices/meeting rooms/training rooms and open-plan office spaces.
-John Devlin, Director of Operations at Storm Technology
Danone Christopher Rushe
Diarmuid is very professional towards his work and competent in the noise assessment area. I found Diarmuid also very friendly and not a clock watcher – he was more than helpful with any enquiries I had during his assessment.
Mr Christopher Rushe, Environmental Health and Safety Officer at Danone.
Woodfit Acoustics
Diarmuid's knowledge of Architectural Acoustics is outstanding. He has assisted Woodfit with a number of challenging projects with excellent results. Diramuid works with diligence and integrity and can be considered an expert in his field.
-Fergal Costello – Woodfit Acoustics, Athlone, Co. Westmeath
PJ Bowes
Diarmuid worked with us in a consultancy capacity and his knowledge, worth ethic and delivery found others wanting. We would highly recommend Diarmuid in any acoustic related capacity and look forward to work together in the future.
-Padraig Bowes, MD of P.J. Bowes Limited Facades and Glazing Systems.
Gordon White Consulting Engineers
We commissioned ICAN Acoustics on behalf of a client to provide an acoustic survey and report on short notice to accompany additional information for a residential housing development. Diarmuid pulled out the stops to get a very supportive report completed on time despite the short notice.
-Gordon White C.Eng, MD at Gordon White Consulting Engineers