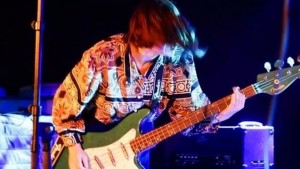 The music industry is hailing a major victory after ministers vowed to change planning rules in England to protect venues from complaints about noise.
Stars including Sir Paul McCartney warned venues forced to pay for soundproofing neighbouring properties could be driven out of business.
Communities Secretary Sajid Javid said the rule, which applies to new housing schemes, was an "unfair burden".
And he said the government would "right this wrong".
Developers will now have to address noise issues if they opt to build homes near a long-established venue.
Industry bodies have said that under current laws, venues are facing "an avalanche of cases" in which residents of new developments were complaining about noise pollution after moving in.
The Music Venue Trust said some venues, as well as other community and cultural organisations, were at risk of closure as a result of what it said was a legal anomaly allowing people to move next door to a premises and demand that noise generated by it be stopped.
The problem, it has warned, was not confined to music, with complaints being made about the ringing of church bells as well as about noise emanating from speedway stadiums and even farms.
In response to a long campaign by the industry – backed by a cross-party group of MPs – ministers have agreed to reflect what is known as the Agent of Change of Principle in the National Planning Policy Framework – with which developers in England must comply.
'Unfair burden'
This states that the person or business responsible for making a change, such as building near an existing premises, is responsible for managing the impact of the change.
Ministers said planning policy will be strengthened, following a consultation, so that decisions on where to locate new developments will take account of existing businesses.
In future, if developers are given permission to build near an existing premises, they will be responsible for identifying and solving any sound issues.
Housing Secretary Sajid Javid said it was "wrong" that entertainment venues were having to make expensive changes to their business arising from developments outside their control.
"I have always thought it unfair that the burden is on long-standing music venues to solve noise issues when property developers choose to build nearby," he said.
"I am pleased to finally have an opportunity to right this wrong and also give more peace of mind to new residents moving into local projects."
UK Music, which is led by former Labour MP Michael Dugher, thanked all those within the industry and in Parliament who had supported their campaign.
The move was also welcomed by Culture Secretary Matt Hancock and other MPs, including Labour's John Spellar who tabled a bill calling for the change last month.
Source BBC.
To read the article in full, click here.