It looks like Limerick LCCC are the first Local Authority in Ireland to adopt ProPG guidance in their Noise Action Plan for 2018-2023.
2.1.11 Professional Planning Guidance (ProPG) on Planning & Noise: New Residential Development.
The ProPG for new residential developments was published in May 2017 by the Association of Noise Consultants (ANC), Chartered Institute of Environmental Health and UK Institute of Acoustics of Noise. It's primary goal is to provide assistance in planning to deliver sustainable development by promoting good health and well-being in relation to noise. It encourages the use of good acoustic design process in and around proposed new residential development, having regard to national policy.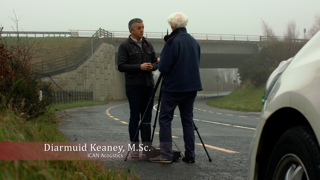 Any issues related to noise should be given consideration at the earliest stages of the development process in order to facilitate streamlined decision making in planning. The ProPG follows a systematic, proportionate, risk based, two-stage, approach.

Stage One is an Initial Site Noise Risk Assessment which should be conducted to establish the level of risk from noise, not including any mitigation measures. There are four noise risk categories (negligible, low, medium and high). The outcome of this assessment should not directly inform a decision, rather to allow for the consideration of good acoustic design.

Stage Two is a full noise assessment including four recommended key elements:
• Element 1 – demonstrating a "Good Acoustic Design Process" avoiding "unreasonable" and preventing "unacceptable" acoustic conditions;

• Element 2 – observing "Internal Noise Level Guidelines";

• Element 3 – undertaking an "External Amenity Area Noise Assessment";

• Element 4 – consideration of "Other Relevant Issues".

To support proposals for a development an Acoustic Design Statements should be produced which will aid recommendations formulated by the decision maker.
Further detail in relation to this guidance is provided in Section 8.2.1 of the LCCC Noise Action Plan. To read the plan, click here.