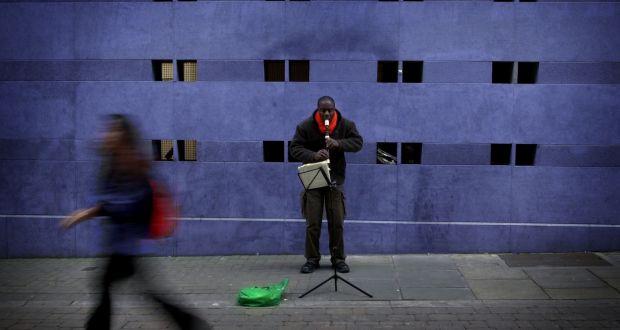 Buskers in Dublin will no longer be allowed to use backing tracks when they play on the capital's streets, following a vote by councillors last night.
Singers and musicians will be required also to have a repertoire that lasts for at least 30 minutes without repetition.
At a meeting of Dublin City Council in City Hall, councillors voted to accept, from August 1st, a ban on backing tracks, described by council management as "repetitive" and of "questionable quality".
In a report to councillors, management acknowledged the talent and diversity of the acts that perform in Dublin. But it said the reality was that despite the introduction of the Street Performers Bye-Laws, in April 2015, street performance continued to cause "significant daily problems and discomfort for businesses, residents and members of the public".
More than 230 complaints were received about busking during public consultation, and the majority complained about the noise generated by amplifiers and backing tracks.
Councillors were told the introduction of a "maximum decibel level" had only a partial effect and was "extremely difficult to enforce". A ban on amplification and backing tracks was initially recommended.
Use of amplifiers
However, following concerns raised by performers at the street performance forum and a meeting of the arts, culture and recreation strategic policy committee, it was agreed the use of amplifiers would be considered separately next year.
The use of amplifiers has been banned in certain areas of Temple Bar, including Temple Bar Square and close to Crampton Buildings, based on an amendment from Cllr Ciarán Cuffe. But a controversial suggestion that percussion and wind instruments, including uilleann pipes, should be banned in these areas was rejected.
The updated bylaws also ban the use of "lewd, offensive or racist language or conduct", including in song lyrics.
They also introduce a two-week visiting street performers' permit, for €10. Performers with one-year permits will be subject to a six-week probation period. A ban on performance outside the GPO has been altered, allowing for performance from 11am to 11pm on Sunday and 7pm to 11pm on weekdays.
Dance troupes
Large acts, such as dance troupes, will be allowed to perform only at the top of Grafton Street, so as not to impede shoppers. Street performers will be permitted to perform for one hour only on the street. All performances must begin and end on the hour mark.
Fine Gael councillors had sought to pass an amendment to introduce a six-month ban on amplification in the city. Cllr Anne Feeney said the amendment was not an attempt to undermine the work of the committee, but to reflect that it was "next to impossible" to police levels of amplification. The proposal was rejected.
Cllr David Moynihan (FF) said he wanted to address the issue of enforcement. He said there was only one staff member employed to enforce the bylaws at present and a €1 million investment in policing would be needed to enforce it properly. He was also opposed to the ban on backing tracks and cited the case of a contortionist from the UK who needed a backing track to perform.
Cllr Rebecca Moynihan, who chaired the arts committee, said the ban on backing tracks would bring down the overall noise in the city. She said a review in September could begin to consider additional locations and times for a ban on amplifiers.
Source: Irish Times.