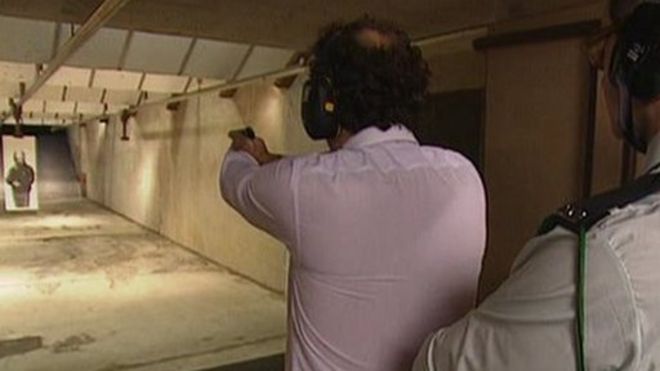 Police have paid out more than £135m to settle claims by former officers who said their hearing was damaged during the course of their duties.
Almost half that bill, more than £65m, was for legal fees.
Details of payments have been revealed by the PSNI in response to a Freedom of Information request by Belfast-based victims group Relatives for Justice.
Up to the end of November, compensation was paid to 8,641 former officers, with hundreds of other claims pending.
As the only routinely armed police force in the UK, the Royal Ulster Constabulary (RUC) officers had to undergo regular firearms training.
It has been established that since the late 1960s, police sources were aware of medical evidence that they had to provide sufficient ear protection for anyone involved in this kind of activity.
Firing ranges
This is a legal principle referred to as the "date of knowledge".
But the RUC did not provide "industry standard" ear protection for another three decades.
One former officer who received compensation spoke of his experience on firing ranges.
"Even when ear protection was introduced, it was sometimes of a very poor standard and there weren't always enough sets of headphones to go around," he said.
"If you were waiting for your turn on the range, it wasn't uncommon to have to simply put your fingers in your ears when standing close to someone firing a gun.
"When we trained with the army, soldiers would shake their heads in amazement at our lack of proper equipment."
More than 10,000 former RUC officers have lodged claims for damages, saying their hearing was damaged.
Enormous compensation
The claims include officers who claim to have suffered hearing loss as a result of frequent radio use, while being transported in helicopters and while driving motorcycles.
However, the vast majority of claims are for damage caused during firearms training.
The figures involved in compensation are enormous.
In response to the Freedom of Information request from Relatives for Justice, the PSNI revealed that, up the end of November, the total amount paid out to settle cases was £135,357,689.
Of that total, £70,161,788 was damages paid to former officers, while £65,195,901 was for legal and court costs.
SDLP MLA Alban Maginness, a barrister and member of Stormont's justice committee, said the legal costs were unacceptable and could have been greatly reduced.
"I have raised this issue on a number of occasions," he said.
"It is a shocking figure and the Policing Board and the Department of Justice have questions to answer about how this was allowed to happen.
'Devastating'
"The police could have taken a much broader approach instead of contesting every case, when medical evidence had been provided stating that there had been hearing loss.
"That would have saved a substantial sum of money."
Sinn Féin MLA Pat Sheehan said the amount of money paid out to the former officers was unjustifiable.
"The amount of money, £135m, involved is extortionate. This is clearly unjustifiable and can not be stood over," he said.
"These officers were well paid and this public money could have been used elsewhere."
However, former detective superintendent Alan Mains, who received compensation for hearing loss while on duty, defended the pay-outs.
"Collectively speaking, it looks like a phenomenal sum. But it could have been dealt with a lot differently… if they had taken a broad common sense approach, instead of challenging medical evidence," he said.
"The reason why we had to carry guns in the first place is pretty obvious – we were the only police service in all of the UK (to have to do so)."
Edwards and Company solicitors have settled claims for more than 3,000 officers, and another 500 are in the pipeline.
One of its senior partners said the affects of hearing loss could be devastating.
Dorcas Crawford cited the example of one client who suffered from a constant ringing sound in his ears, a condition known as tinnitus.
"His case was terribly severe, the worst I have heard of, so much so that when he went to see the hearing consultant, he asked him if he could possibly make him deaf because he would prefer to be deaf than to have to cope with the tinnitus," she said.
"The sad fact, of course, is that the consultant couldn't do that, and even if he was completely deaf he would still have the tinnitus, but it simply drove him insane."
She also rejected any suggestion that former officers could make false claims.
"Hearing loss can be objectively measured," she said.
Medical evidence
"In every case settled by the Crown Solicitors Office, clients are tested and examined by two doctors, one acting for their solicitor and the other acting for the police, and medical reports are produced.
"Those medical reports then determine the extent of the compensation claim."
While her company has benefited financially by representing officers with hearing loss claims, she agrees with Mr Maginness that the police could have significantly reduced the legal bill by accepting medical evidence instead of contesting every case.
"Virtually every single case, except for a tiny, tiny minority, are settled at door of court, so generally I really don't see any reason why those could not have been settled once the medical evidence was on for both sides," she said.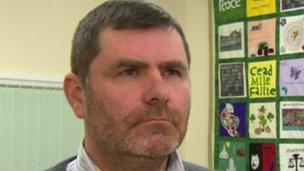 "I don't for one minute suggest that the Crown simply pay out money where the case hasn't been proven, but the case is proven at the earliest stage when they've got both medical reports.
"My estimate would be that they could have saved around half of that sum for legal costs by settling cases at an early stage."
'Unfair'
The group that sent the Freedom of Information request to the police described the sums of money involved as "appalling".
Mark Thompson, director of Relatives for Justice, said it was unfair that so much has been spent paying the legal costs for former officers, at the same time as those taking action against the police and State were having their legal aid cut.
"We represent people who have been victims of the conflict and are trying to take action against the police and they are having their legal aid cut, and the lawyers that represent them have been condemned by some unionist politicians," he said.
"But here we have the police spending tens of millions of pounds in damages to former police officers, and paying out tens of millions in legal costs and we don't hear those politicians asking questions about it. That is simply unacceptable."
In a statement, the PSNI said: "All hearing loss claims have to be thoroughly investigated.
"The chief constable is fully aware of his responsibility to the public purse and the strategy for handling hearing loss litigation has been kept under review by the Chief Constable's lawyers and the Crown Solicitor's Office with the aim of ensuring that claims are dealt with as economically as is possible given the technical aspects of the cases and the individual circumstances of each."
The PSNI also said all legal costs were closely scrutinised and "have been challenged by the Chief Constable's lawyers when appropriate".
Source: BBC News Jan 2014