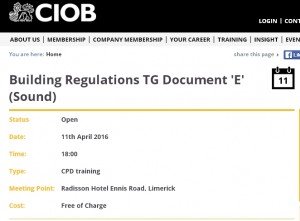 Building Regulations TG Document 'E' (Sound)
Status Open
Date: 11th April 2016
Time: 18:00
Type: CPD training
Meeting Point:
Radisson Hotel Ennis Road, Limerick
Cost:  Free of Charge
Booking Details
Name: Mandy Coleman
Email: mcoleman@ciob.org.uk
Tel: 00 353(0)1 236 9851
The presentation is designed as an introduction to sound insulation testing and the requirements within the Irish Building Regulations Document E (on Sound), 2014.  It will be informative and designed to provide attendees with a good understanding of the test process and the 'now compulsory' testing requirements. It would suit assigned certifiers, consulting engineers, architects, building professionals, quantity surveyors and construction managers. The presentation will be hosted by Diarmuid Keaney of ICAN Acoustics who holds an M.Sc. in Applied Acoustics and a Diploma in Acoustics and Noise Control. The presentation is used to create awareness of sound insulation test requirements in new buildings and to promote sound insulation test services and acoustic consultancy services offered by ICAN Acoustics all over Ireland. The presentation will take circa 40 minutes with a 10min Q&A session.